Unconventional Security Best Practices
Unconventional Security Best Practices
Tuesday, May 11, 2021 (10:30 AM - 11:30 AM) (EDT)
Description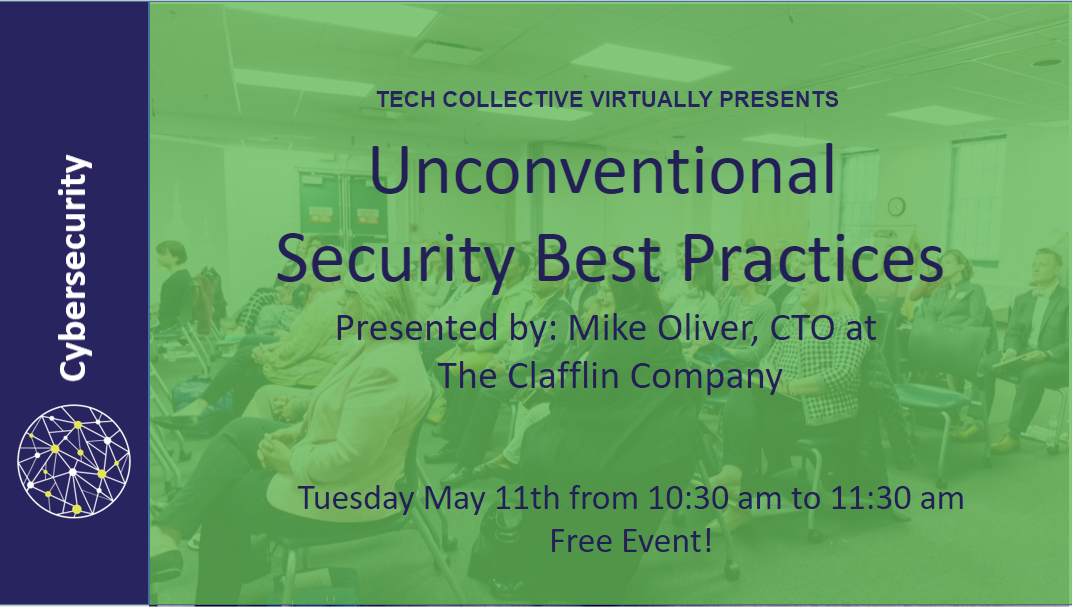 About the presentation: EVERYONE can get hacked. You do not want to be the lowest hanging fruit. Join Mike Oliver, CTO of the Claflin company, as he shares 10 unconventional practices for keeping your information safe. These will include Office 365 Communications, impersonation settings, geo blocking and 7 others. Mike is passionate about security and this comes out in his presentation.
Participants will gain additional security defense information as well as methods to deploy these tools.
Short Bio:
Mike Oliver is the Chief Technology Officer at the Claflin Company. He's the appointed as chairman of the Health Information Exchange Advisory Commission by Gov Gina Raimondo .He serves onon the Statewide Health Technology Steering Committee and is the lead technology adviser for Rhode Island Free Clinic www.rifreeclinic.org. Mike has served on the FDA's Unique Device Identifier or UDI initiative http://bit.ly/oliverudi.
Some Important Additional Details:
Our "Unconventional Security Best Practices" is taking place on Microsoft Teams. If you have never logged into a Microsoft Teams before, be sure to give yourself time beforehand to download Teams.
The link for the event will be sent out before the event. If you have not received the link please email us at info@tech-collective.org so we can send it to you again.
Please plan on arriving at about 10:25 am as we will start promptly at 10:30 am.
The Power of Microsoft Teams and Secure Collaboration" will run until 11:30 am with ample time for Q&A
Cameras on! Please plan on turning your camera on so we can all connect as we learn.
If you would like to contribute to our programming by hosting a session, please email Creusa Michelazzo at creusa.michelazzo@tech-collective.org
Questions? Email our team at info@tech-collective.org
Virtual Event

, RI United States

Tuesday, May 11, 2021 (10:30 AM - 11:30 AM) (EDT)
Categories
Cybersecurity

Registered Guests
8