The Power BI and Data Analytics Value Proposition
The Power BI and Data Analytics Value Proposition
Thursday, April 22, 2021 (2:00 PM - 3:00 PM) (EDT)
Description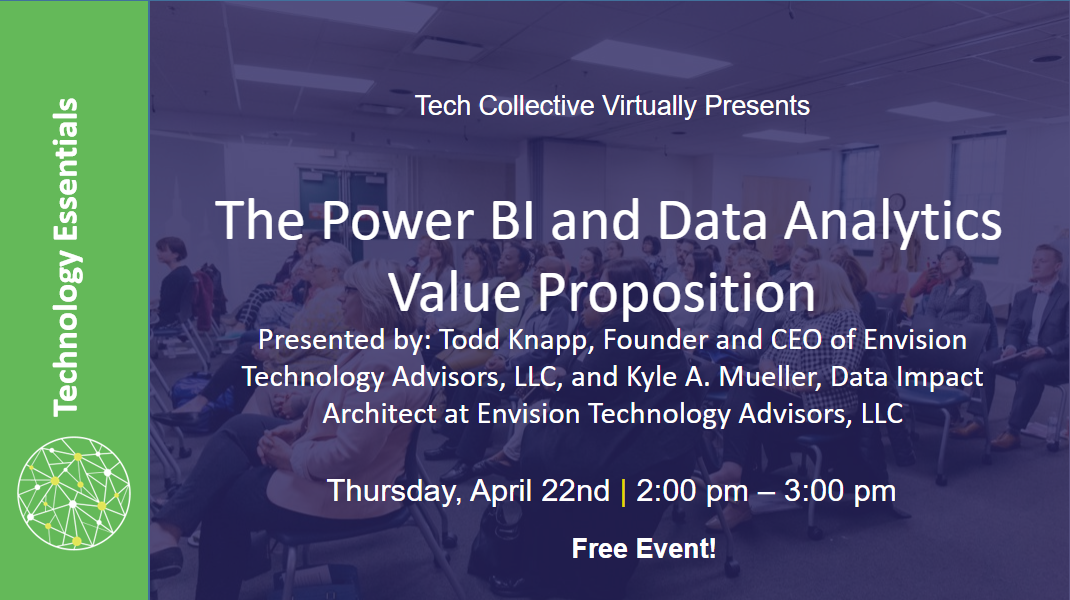 If you've been looking for an introductory look at Power BI and Data Analytics, or if you have been searching for a way to present on the value of data to your management team, this session is for you.
Envision's Founder and CEO, Todd Knapp, and Kyle Mueller, Data Impact Architect, will present a high-level overview of the Power BI solution, along with practical examples of where data can be used in nearly any business. They will also discuss how Power BI can be used to analyze and act on insights derived from data you already have! Finally, they will arm you with some talking points and strategies to make a case for data analytics in your business.
What participants can expect to gain :
Participants can expect to gain an introductory understanding of data analytics and visualization through the use of Microsoft Power BI. Power BI is a collection of software services, apps, and connectors that work together to turn unrelated sources of data into coherent, visually immersive, and interactive insights.

About the Presenters
As the Founder and CEO of Envision Technology Advisors, LLC, Todd Knapp has provided business and technology consulting services to the New England region and beyond for over 20 years. During this time, he has consulted with businesses across all verticals and of all sizes, from small and medium sized organizations to the Fortune 500. A recognized expert on digital transformation practices, cloud technologies, and other business- oriented technology solutions, Todd regularly speaks at events throughout the country where he is sought out for his energetic and informative presentations. Todd is a regular contributor to leading industry publications and was honored with Tech Collective's Tech10 "Lifetime Achievement Award" in 2020.
Kyle is a Data Impact Architect at Envision Technology Advisors who is extremely passionate about Power BI and the Microsoft Power Platform. Prior to working full time with the Microsoft suite of tools, he worked in higher education administration and clinical trial supply. Kyle leverages the combination of his love for data/technology and his academic background in psychology to create meaningful impact in the communities around him, wherever that may be.
Some Additional information:
Our virtual event "The Power BI and Data Analytics Value Proposition" will be hosted on Microsoft Teams . If you have never logged into a Microsoft Teams before, be sure to give yourself time beforehand to download Teams.
The link for the event will be sent the morning of the event. If you have not received the link, please email us at info@tech-collective.org to send it to you again.
Please plan on arriving at 10:55 am as we will start promptly at 11 am and will run until 12:30 pm, with ample time for Q&A
Cameras on! Please plan on turning your camera on so we can all connect as we learn.
If you would like to contribute to our programming by hosting a session, please email Creusa Michelazzo at creusa.michelazzo@tech-collective.org
Questions? Email our team at info@tech-collective.org
Virtual Event

, RI United States

Thursday, April 22, 2021 (2:00 PM - 3:00 PM) (EDT)
Categories
Tech Essentials

Registered Guests
11