Safety Settings to Secure Your Email Communications
Safety Settings to Secure Your Email Communications
Tuesday, April 6, 2021 (10:00 AM - 11:00 AM) (EDT)
Description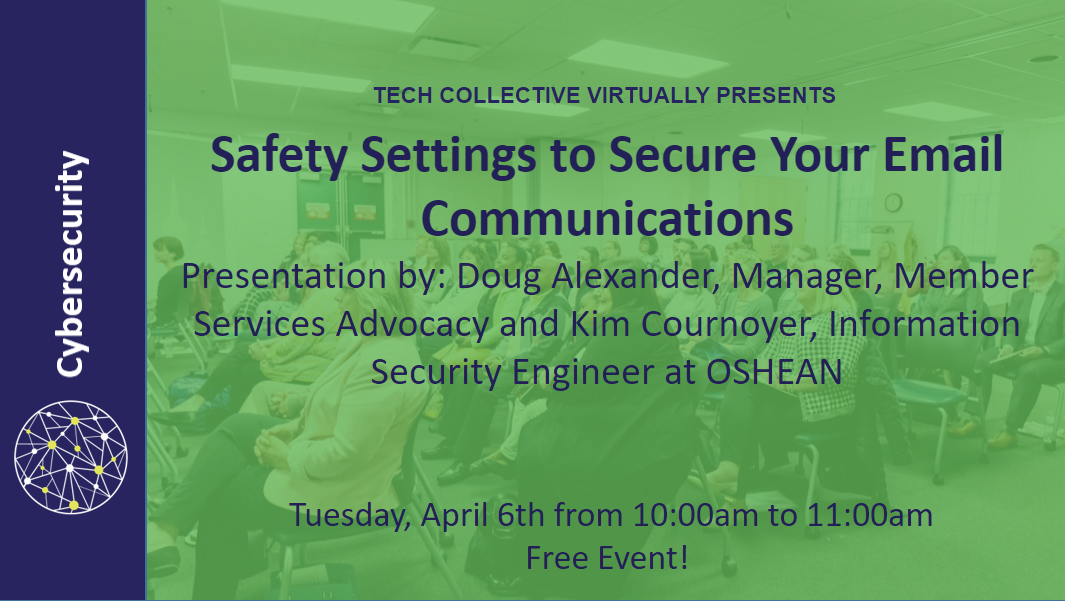 OSHEAN will be presenting a session on "Safety Settings to Secure Your Email Communications." During this session, attendees will get a brief primer on how to protect your domain from being used in spoofing and other email attacks.
What participants can expect to gain:
Introduction to Email Authentication
DNS Records
DMARC - Domain-based Message Authentication, Reporting and Conformance
Bio: This presentation is in partnership with OSHEAN. The presenters are: Doug Alexander, Manager, Member Services Advocacy, and Kim Cournoyer, Information Security Engineer at OSHEAN.OSHEAN is motivated by its commitment to members to deliver premium, affordable, broadband telecommunications, IP networking, and Above the Net services. It is the mission of OSHEAN to seek out innovative technology solutions that best align with its members' objectives. Working collaboratively, OSHEAN continuously drives economic advantage and operational efficiency to improve the agility and responsiveness of member organizations.
Some Additional information:
Our virtual event "Safety Settings to Secure Your Email Communications" will be hosted on Microsoft Teams . If you have never logged into a Microsoft Teams before, be sure to give yourself time beforehand to download Teams.
The link for the event will be sent the morning of the event. If you have not received the link, please email us at info@tech-collective.org to send it to you again.
Please plan on arriving at 9:55 am as we will start promptly at 10 am and will run until 11:00 am, with ample time for Q&A
Cameras on! Please plan on turning your camera on so we can all connect as we learn.
If you would like to contribute to our programming by hosting a session, please email Creusa Michelazzo at creusa.michelazzo@tech-collective.org
Questions? Email our team at info@tech-collective.org
Virtual Event

Tuesday, April 6, 2021 (10:00 AM - 11:00 AM) (EDT)
Categories
Cybersecurity