Listening: An Underrated Superpower
Listening: An Underrated Superpower
Wednesday, April 21, 2021 (11:00 AM - 12:30 PM) (EDT)
Description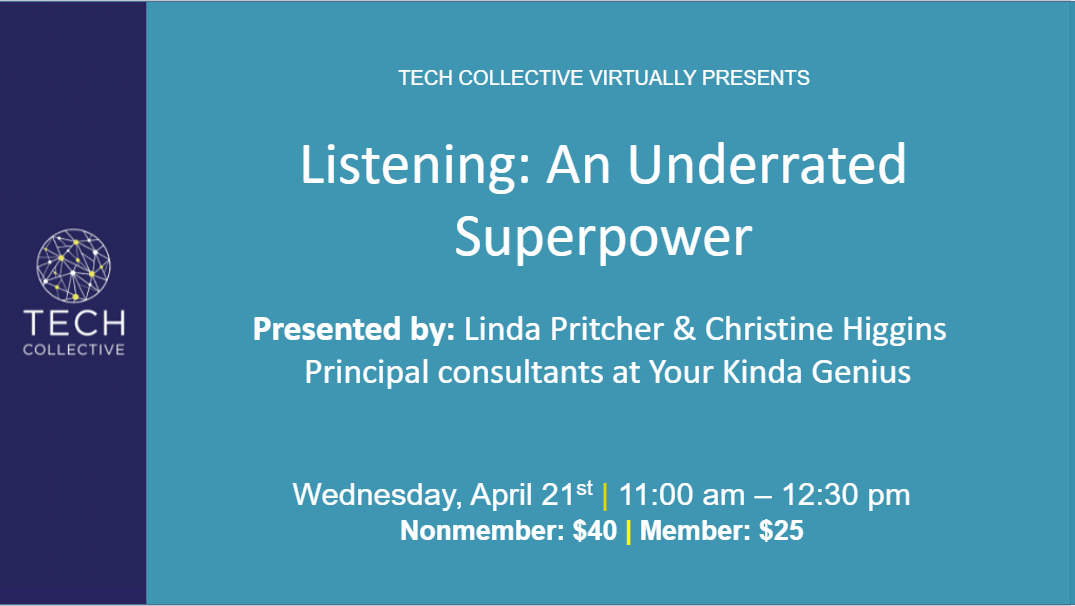 Those who listen well, connect and build successful relationships with teams, colleagues, and clients; generating energy, momentum, and impactful outcomes.
While people love tips and techniques for actively listening, they're not the real deal; they're the hard way. Strategies are a lot of work, require practice, and produce inconsistent results.
Chances are, no one's told you about your true power and capacity for listening. We will.
Once you've got it, listening is efficient, productive, and collaborative.
What participants can expect to gain:
Super-charge your listening in this online, 90-minute interactive program. You'll learn the fundamentals of listening that no one else is talking about.
Discover the critical component of listening
How to tap your listening super power
Streamline your collaboration & communication
How to get everyone on the same page
If signing up for multiple sessions of - Listening: An Underrated Superpower, Resiliency: The Core of Your Success, and Clarity: Map an Unpredictable Future, contact maureen.giaquinto@tech-collective.org for single invoicing

Short Bio:
Linda Pritcher & Christine Higgins are the principal consultants at Your Kinda Genius and will be the facilitators for this presentation.
Your Kinda Genius is a training and consulting firm dedicated to revolutionizing the way people work. Their consultants have decades of experience ranging from research and development to product design and distribution in the creative and technical sectors.
They combine these years of industry experience with expertise in the foundational principles behind human performance to help business clients access and leverage Genius; producing results that were otherwise unattainable.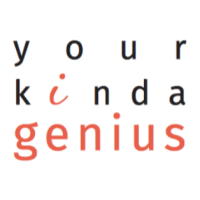 Some Additional information:
Our virtual event "Listening: An Underrated Superpower" will be hosted on Microsoft Teams . If you have never logged into a Microsoft Teams before, be sure to give yourself time beforehand to download Teams.
The link for the event will be sent the morning of the event. If you have not received the link, please email us at info@tech-collective.org to send it to you again.
Please plan on arriving at 10:55 am as we will start promptly at 11 am and will run until 12:30 pm, with ample time for Q&A
Cameras on! Please plan on turning your camera on so we can all connect as we learn.
If you would like to contribute to our programming by hosting a session, please email Creusa Michelazzo at creusa.michelazzo@tech-collective.org
Questions? Email our team at info@tech-collective.org
Pricing
This session is being offered at a one time only promotional price!
Virtual Event

, RI United States

Wednesday, April 21, 2021 (11:00 AM - 12:30 PM) (EDT)
Registered Guests
12