Leveraging Company Culture to Improve Retention
Leveraging Company Culture to Improve Retention
Wednesday, April 14, 2021 (10:00 AM - 11:00 AM) (EDT)
Description
When good employees choose to leave your organization, there is a huge cost involved in hiring and training their replacement. The main reasons people give for choosing to seek new opportunities are weak relationships and poor communication within their current teams, or a lack of a clear career path. Company leaders can help prevent these disconnections by working to identify and improve company culture.
Participants will gain tools and insight into how to identify, define and communicate the culture of their company. They will also learn strategies to make positive changes to enhance the culture throughout their organization.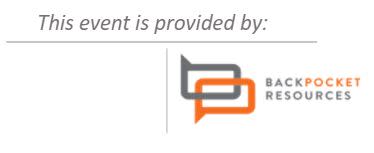 Kaydi McQuade has built a career as an educator and an entrepreneur. She uses that experience to build training programs to solve the "people problems" that keep leaders up at night. When she is not consulting with small businesses, she can be found outside with her family and dogs.
Some Important additional Details:
Our Leveraging Company Culture to Improve Retention will be hosted on Microsoft Teams . If you have never logged into a Microsoft Teams before, be sure to give yourself time beforehand to download Teams.
The link for the event will be sent the morning of the event. If you have not received the link, please email us at info@tech-collective.org to send it to you again.
Please plan on arriving at 9:55 am as we will start promptly at 10 am and will run until 11am, with ample time for Q&A
Cameras on! Please plan on turning your camera on so we can all connect as we learn.
If you would like to contribute to our programming by hosting a session, please email Creusa Michelazzo at creusa.michelazzo@tech-collective.org
Questions? Email our team at info@tech-collective.org
Virtual Event

, RI United States

Wednesday, April 14, 2021 (10:00 AM - 11:00 AM) (EDT)
Registered Guests
14