IT Service Management practices with ITIL 4
IT Service Management practices with ITIL 4
Tuesday, February 16, 2021 (12:00 PM - 12:30 PM) (EST)
Description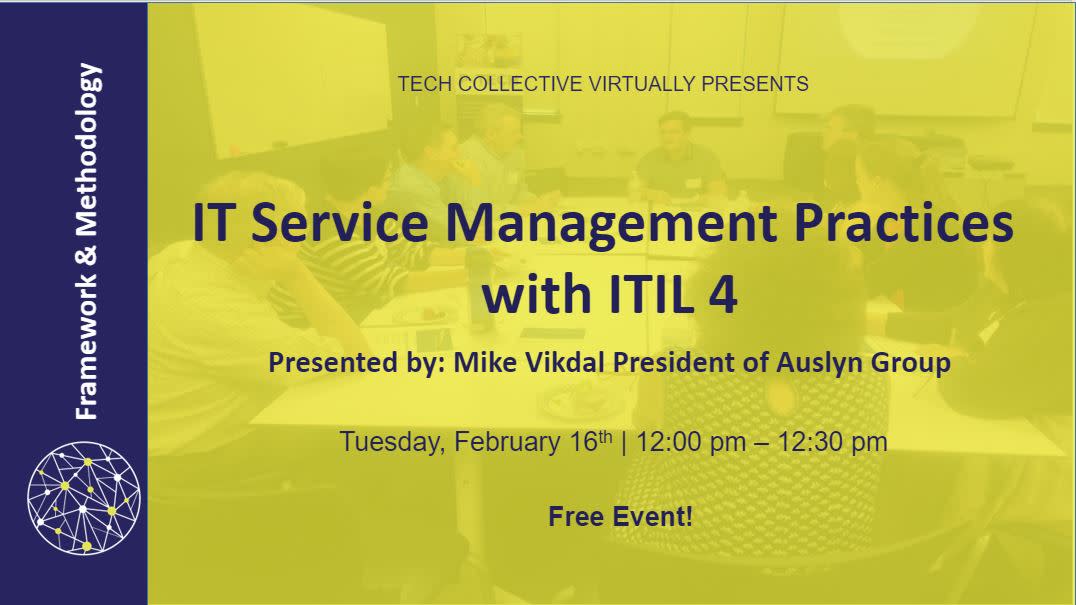 About the presentation:
We will discuss the practices of ITIL 4, Agile (SCRUM), DevOps, LeanIT in addition to how ITSM technologies are enabled by these practices.
What participants can expect to gain:
A high level understanding of why industry best practices are critical to not only the IT organization but the company as a whole. It is important to investigate other practices to identify which to use, how they overlap and the reasoning behind the practices.
What is the target audience:
All Levels. Typically mid tier management and above, however it is applicable to all.
Small/Medium Business without an in house technology or data person
Short Bio:
Mike Vikdal has over 30 years Systems Management experience, Experienced ITSM instructor, Authoring Team Member of ITIL 4, Pre-sales software consulting, product marketing, events coordinator, business process design.
Some Important additional Details:
Our IT Service Management Practices with ITIL 4 is taking place on Microsoft Teams (please add a link to Microsoft teams). If you have never logged into a Microsoft Teams before, be sure to give yourself time beforehand to download Teams.
The link for the event will be sent before the event. If you have not received the link, please email us at info@tech-collective.org to send it to you again.
Please plan on arriving at about 12 pm as we will start promptly at Event time!
The IT Service Management Practices with ITIL 4 will run until enter time here, with ample time for Q&A
Cameras on! Please plan on turning your camera on so we can all connect as we learn.
If you would like to contribute to our programming by hosting a session, please email Creusa Michelazzo at creusa.michelazzo@tech-collective.org
Questions? Email our team at info@tech-collective.org