Go with the Flow
Wednesday, January 13, 2021 (12:00 PM - 12:30 PM) (EST)
Description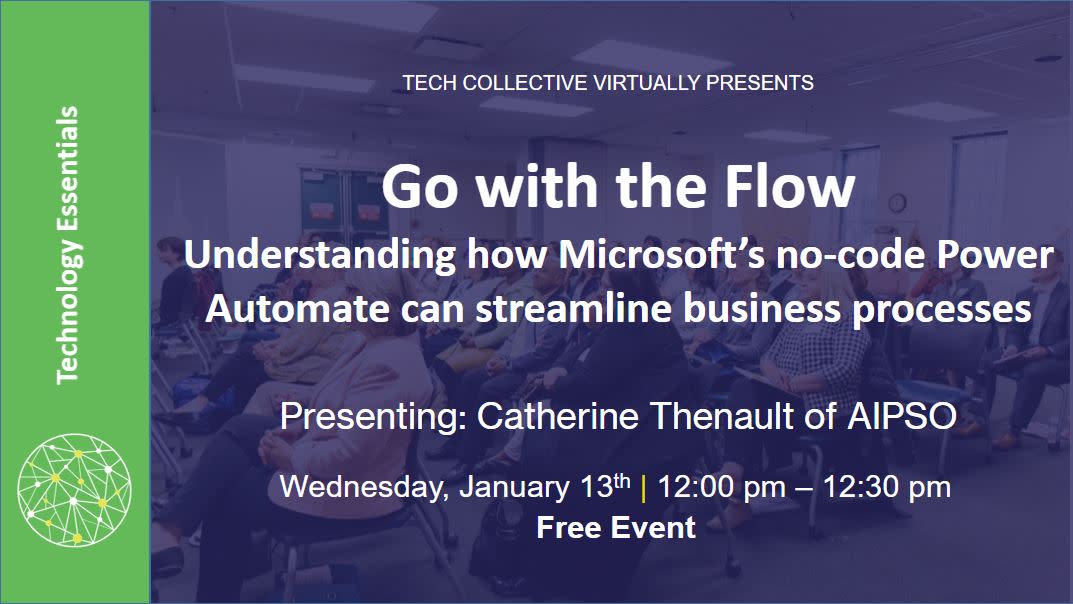 About this Event
In this introductory session, we will explore the benefits of no-code automation using Microsoft's Power Automate. Power Automate is an Office 365 tool that permits business users to create no-code workflows called flows. Flows automate repetitive tasks and processes resulting in efficiencies and standardization. Flows enable businesses to do more with what they have.
What participants can expect to gain:
Participants will gain an understanding of the fundamentals of Power Automate and explore the different components that allow business users to create efficient no-code workflows. Participants will learn the five different types of Flows. We will delve into ideas for different uses of Power Automate and see how easy it is to get started with Microsoft's templates.
About the Presenter: Catherine Thenault is an IT Professional with over 40 years of experience. Her current areas of focus are Content & Collaboration Management Systems including SharePoint, Office 365 and Microsoft's Power Platform. She is a facilitator and technical trainer who enjoys spending time where business problems and technical solutions intersect. When not working, she is happiest on a bike, skis, or a boat, or cooking a great meal.
Some Important additional Details:
Our Microsoft Go with the Flow is taking place on Microsoft Teams. If you have never logged into a Microsoft Teams before, be sure to give yourself time beforehand to download Teams.
The link for the event will be sent before the event. If you have not received the link, please email us at info@tech-collective.org to send it to you again.
Please plan on arriving at about 11:55 as we will start promptly at 12 pm!
The No- code will run until12:30 pm, with ample time for Q&A
Cameras on! Please plan on turning your camera on so we can all connect as we learn.
If you would like to contribute to our programming by hosting a session, please email Creusa Michelazzo at creusa.michelazzo@tech-collective.org
Questions? Email our team at info@tech-collective.org
Virtual Event

, RI United States

Categories
Tech Essentials

Registered Guests
26