Don't Let Them Take a Byte: Defending Your Data Bit by Bit
Don't Let Them Take a Byte: Defending Your Data Bit by Bit
Tuesday, May 18, 2021 (12:00 PM - 1:00 PM) (EDT)
Description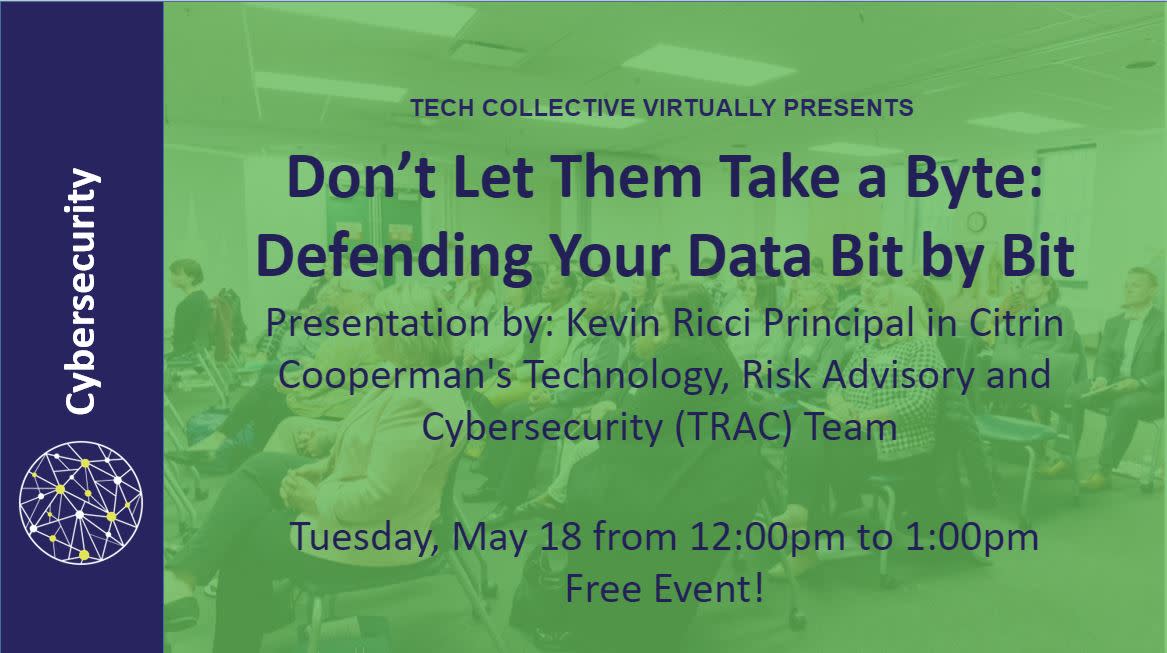 Join Kevin Ricci, a Principal with Citrin Cooperman's Technology Risk Advisory and Cybersecurity (TRAC) team, as he shares his cybersecurity expertise to help you make appropriate and effective cybersecurity decisions. This discussion will provide an intuitive overview of the cybersecurity risks that threaten your business and best practices to combat them. easy to implement strategies to help minimize your cyber-risk and keep your business safe and secure.
What participants can expect to gain:
Attendees will leave with actionable strategies for their business by covering key cybersecurity concepts, including:
· Statistics and overview of today's cybersecurity landscape
· The cost of a data breach
· Best practices for passwords, remote and mobile computing, email usage, and more
· Spear phishing detection and avoidance
· Getting the most out of a cybersecurity awareness training program

Short Bio:
In addition to spending over a decade as a technology and cybersecurity consultant, Kevin has also spent more than 20 years in the trenches leading IT departments, allowing him to discuss cybersecurity from both perspectives. As a former stand-up comedian, Kevin interweaves humor into his delivery of cybersecurity information, resulting in an enjoyable yet informative presentation.
Some Additional information:
Our virtual event "Don't Let Them Take a Byte: Defending Your Data Bit by Bit" will be hosted on Microsoft Teams . If you have never logged into a Microsoft Teams before, be sure to give yourself time beforehand to download Teams.
The link for the event will be sent the morning of the event. If you have not received the link, please email us at info@tech-collective.org to send it to you again.
Please plan on arriving at 11:55 am as we will start promptly at 12 pm and will run until 1:00 pm, with ample time for Q&A
Cameras on! Please plan on turning your camera on so we can all connect as we learn.
If you would like to contribute to our programming by hosting a session, please email Creusa Michelazzo at creusa.michelazzo@tech-collective.org
Questions? Email our team at info@tech-collective.org
Address

, RI United States

Tuesday, May 18, 2021 (12:00 PM - 1:00 PM) (EDT)
Categories
Cybersecurity

Registered Guests
5