CompTIA Security+ Certification Training
CompTIA Security+ Certification Training
Friday, February 26, 2021 (2:00 PM - 4:00 PM) (EST)
Description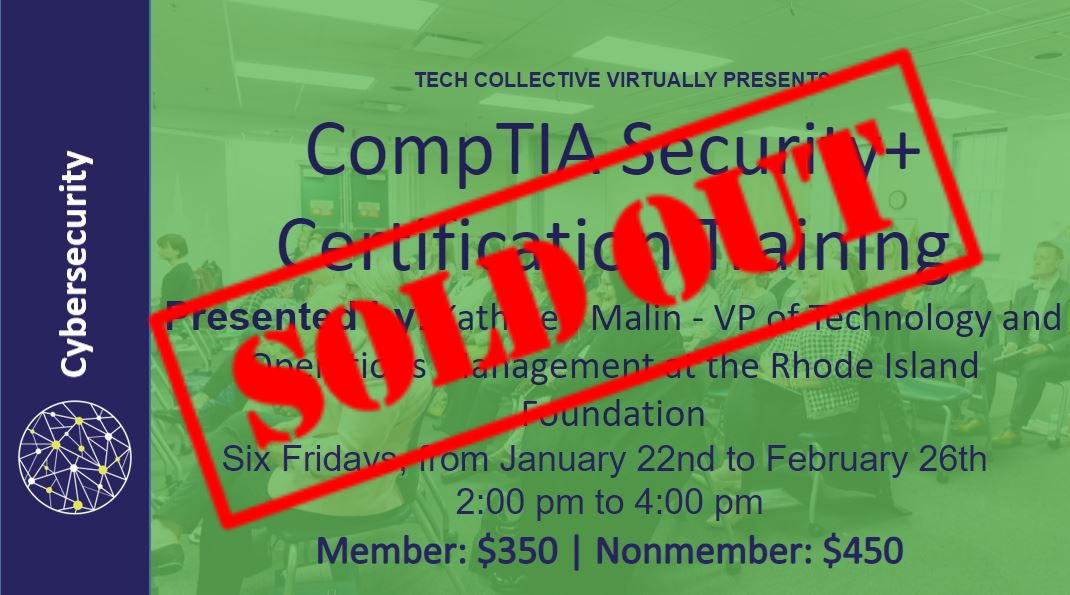 About the presentation: This interactive training will prepare participants to take CompTIA's SYO-501 Security+ certification test. Participants must purchase the ExamCram CompTIA Security + SYO-501 book on their own. It's $35.48 on Amazon. Purchase of the book includes a 10% discount voucher on the $339 CompTIA exam from Pearson. The cost of this class is for instruction only.
Each week we will cover a different security objective that will be included on the exam:
Threats, Attacks, and Vulnerabilities
Technologies and Tools
Architecture and Design
Identity and Access Management
Risk Management
Cryptography and PKI
Overview: CompTIA Security+ Certification Training will cover all the exam objectives and practice tests are included. Add to the knowledge you have already gained in your career by completing this twelve hour course. Each week we will look at critical security topics and requirements for the Security+ certification test.
What participants can expect to gain: CompTIA Security+ Certification Training is a great step toward an entry level or intermediate level cybersecurity or IT career. With Security+ you will learn to recognize and improve security concerns. Topics include physically securing a network and its devices, and protecting systems from external and internal threats. You will learn the best way to install and secure applications and understand policies and techniques used to mitigate risk. Completing this training and certification lets employers know that you are prepared with the essential skills needed to recognize and address security threats, and prepared with the tools to control access and secure vulnerable systems.
These sessions will be hosted on the Zoom platform. Prior to the training you will receive the link. You will need to have audio and video capabilities in order to participate.
About the presenter: As the Rhode Island Foundation's vice president of technology and operations management, Kathleen is responsible for all aspects of technology at the organization. She is a member of the Foundation's Leadership Team. She has also worked as a network administrator and technology director at public and private schools in Rhode Island and New York. She has taught technology for 20 years including over 10 years teaching CompTIA exam prep classes. Kathleen earned an undergraduate degree from Immaculata (PA) University, a master's degree in nonprofit management from New England College, Henniker, NH, and also received a master of business administration from NEC in 2014. She has earned numerous technology-related certifications including CompTIA Security+. Kathleen shares her professional expertise with nonprofits and presents on technical topics likes IT security and increasing capacity with technology tools.
Pricing
Members: $350, Nonmembers: $450
Online

, RI United States

Friday, February 26, 2021 (2:00 PM - 4:00 PM) (EST)