Certified Ethical Hacker
Saturday, September 18, 2021 8:00 AM - Saturday, November 20, 2021 12:00 PM (EDT)
Description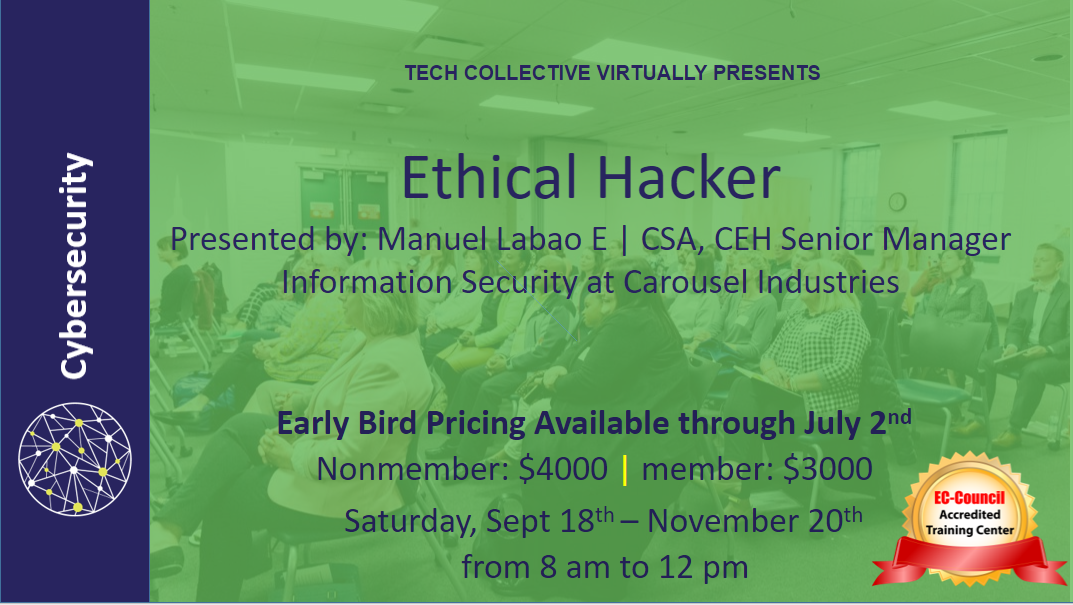 Tech Collective is the only EC Council partner in RI
[Virtual Class]
Tech Collective's Certified Ethical Hacker is a 40 hour virtual, hands-on program that will prepare you for the EC Council Exam. This bootcamp covers how to work with a variety of systems to find out where their weaknesses or vulnerabilities may be, and how you can identify and reinforce these gaps to prevent successful hacking attempts. Ethical hacking is where an IT professional uses the same hacking techniques as malicious hackers to protect and prevent a company's systems from falling into the hands of criminals. By the end the program you'll know what tools do what job, how to use the tools properly and how to conduct an ethical penetration test.
Learn:
Ethical hacker basics and the different fields in penetration testing, installing the needed software (works on Windows, Linux, and Mac OS X)
Network hacking by testing the security networks, both wired and wireless
Gaining Access by learning server side attacks and discovering weakness and vulnerabilities and exploiting them
Post exploitation by interacting with the systems you compromised
Learn to access the files' systems, maintain your access spy
Website and Web Application Hacking by gathering information about the target website and how to discover and exploit the following dangerous vulnerabilities to hack into websites
Why?
Establish and govern minimum standards for credentialing professional information security specialists in ethical hacking measures
Inform the public that credentialed individuals meet or exceed the minimum standards
Reinforce ethical hacking as a unique and self-regulating profession.
Pricing:
Early Bird Discount Pricing
In order to receive this pricing please contact @Maureen.Giaquinto@tech-collective.org. It must be paid by check within 30 days of the invoice date.
EB Member $3,000.00
EB Non-Member $4,000.00
After July 2nd the price increases to:
Member $3,500.00
Non-Member $4,500.00
Some Important Additional Details:
Our "Certified Ethical Hacker" is taking place on Microsoft Teams. If you have never logged into a Microsoft Teams before, be sure to give yourself time beforehand to download Teams.
The link for the event will be sent out before the event. If you have not received the link please email us at info@tech-collective.org so we can send it to you again.
Please plan on arriving at about 7:55 am as we will start promptly at 8:00 am.
The Power of Microsoft Teams and Secure Collaboration" will run until 12:00 pm with ample time for Q&A
Cameras on! Please plan on turning your camera on so we can all connect as we learn.
If you would like to contribute to our programming by hosting a session, please email Creusa Michelazzo at creusa.michelazzo@tech-collective.org
Questions? Email our team at info@tech-collective.org
Virtual Event

, RI United States

Saturday, September 18, 2021 8:00 AM - Saturday, November 20, 2021 12:00 PM (EDT)
Categories
Cybersecurity