Certified Ethical Hacker
Saturday, March 20, 2021 8:00 AM - Saturday, May 22, 2021 12:00 PM (EDT)
Description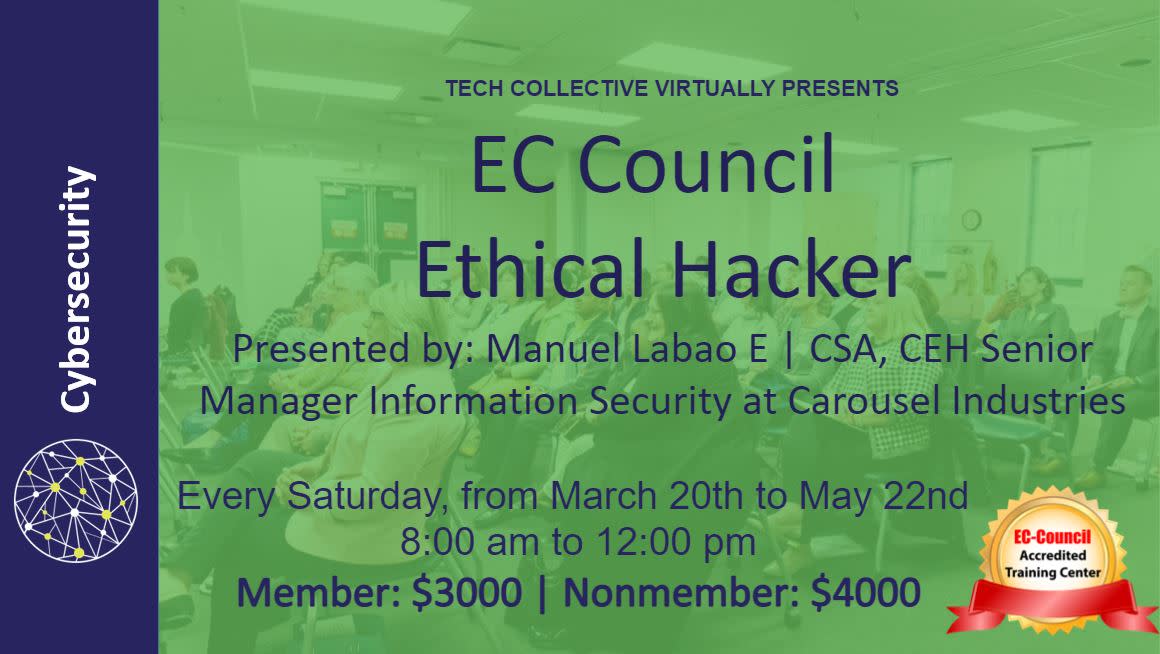 Tech Collective is the only EC Council partner in RI
[Virtual Class]
Tech Collective's Certified Ethical Hacker is a 40 hour virtual, hands-on program that will prepare you for the EC Council Exam. This bootcamp covers how to work with a variety of systems to find out where their weaknesses or vulnerabilities may be, and how you can identify and reinforce these gaps to prevent successful hacking attempts. Ethical hacking is where an IT professional uses the same hacking techniques as malicious hackers to protect and prevent a company's systems from falling into the hands of criminals. By the end the program you'll know what tools do what job, how to use the tools properly and how to conduct an ethical penetration test.
Learn:
Ethical hacker basics and the different fields in penetration testing, installing the needed software (works on Windows, Linux, and Mac OS X)
Network hacking by testing the security networks, both wired and wireless
Gaining Access by learning server side attacks and discovering weakness and vulnerabilities and exploiting them
Post exploitation by interacting with the systems you compromised
Learn to access the files' systems, maintain your access spy
Website and Web Application Hacking by gathering information about the target website and how to discover and exploit the following dangerous vulnerabilities to hack into websites
Why?
Establish and govern minimum standards for credentialing professional information security specialists in ethical hacking measures
Inform the public that credentialed individuals meet or exceed the minimum standards
Reinforce ethical hacking as a unique and self-regulating profession
When?
Saturday, March 20th from 8:00 am to 12:00 pm
Saturday, March 27th from 8:00 am to 12:00 pm
Saturday, April 3rd from 8:00 am to 12:00 pm
Saturday, April 10th from 8:00 am to 12:00 pm
Saturday, April 17th from 8:00 am to 12:00 pm
Saturday, April 24th from 8:00 am to 12:00 pm
Saturday, May 1st from 8:00 am to 12:00 pm
Saturday, May 8th from 8:00 am to 12:00 pm
Saturday, May 15th from 8:00 am to 12:00 pm
Saturday, May 22nd from 8:00 am to 12:00 pm
Corporate Members: $3000 Non-Members $4000 - Email us to get your member code
(this price includes the exam from EC Council)
To Register or Learn More Contact: monica.kwarta@tech-collective.org
Virtual Event

, RI United States

Saturday, March 20, 2021 8:00 AM - Saturday, May 22, 2021 12:00 PM (EDT)
Categories
Cybersecurity